Brooke
Physical description
Species
Gender

Female

Hair color

Blonde

Eye color

Green

Skin color

White

Affiliation
Occupation

College Student

Character information
Only appearance
Portrayed By
.
"It's a joke spell, Tessa. This is just supposed to be fun. I mean, you can choose any animal to turn into a man and you chose a pig."
—Brooke to Tessa.
Brooke was one of three mortal girls who shared a class with Phoebe Halliwell, along with Andrea and Tessa.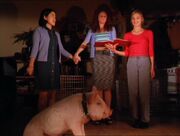 On Valentine's Day in 2000, Brooke and the other girls tried to perform a spell to turn animals into men. Brooke chose a snake because she thought it was kinky. When their attempt failed, they used a recording of Phoebe casting another version of the spell, which worked.
The transformed animals quickly turned violent and realized the magic was only temporary. In order to remain human, they tried to find Phoebe. The Snake then bit Brooke and Andrea, poisoning them in order to use them as leverage. While the animals entered P3, Prue and Piper found the girls in a car trunk and ensured they got to the hospital to be treated.
Appearances
Edit
Brooke appeared in a total of 1 episode throughout the course of the series.
Charmed

,

Season 2

#01
"Witch Trial"
#09
"Ms. Hellfire"
#17
"How to Make a Quilt Out of Americans"
#02
"Morality Bites"
#10
"Heartbreak City"
#18
"Chick Flick"
#03
"The Painted World"
#11
"Reckless Abandon"
#19
"Ex Libris"
#04
"The Devil's Music"
#12
"Awakened"
#20
"Astral Monkey"
#05
"She's a Man, Baby, a Man!"
#13
"Animal Pragmatism"
#21
"Apocalypse, Not"
#06
"That Old Black Magic"
#14
"Pardon My Past"
#22
"Be Careful What You Witch For"
#07
"They're Everywhere"
#15
"Give Me a Sign"
#08
"P3 H2O"
#16
"Murphy's Luck"
Ad blocker interference detected!
Wikia is a free-to-use site that makes money from advertising. We have a modified experience for viewers using ad blockers

Wikia is not accessible if you've made further modifications. Remove the custom ad blocker rule(s) and the page will load as expected.