Brian Thompson
Actor Information
Name

Brian Thompson

Birthplace

Ellensburg, Washington, USA

Birth date

August 28th, 1959

Portrayed
Season
Episode(s)
.
Brian Thompson portrayed War in the Season 2 episode "Apocalypse, Not". He later portrayed the Titan Cronus in the Season 5 episodes "Oh My Goddess! Part 1 and Part 2".
Biography
Edit
Thompson was born in Ellensburg, Washington, located in the same area where "Northern Exposure" (1990) would later be filmed. Raised on the Columbia River in Longview, he learned the value of academics and athletics, as the son of two teachers and the second of six siblings. His interest in acting was first sparked during his senior year of high school with the role of the Russian ballet instructor Boris in the comedy "You Can't Take it With You".
Under the pretense of attending Central Washington University to play football and study business management, he quietly auditioned for every available play, trodding the boards for a dozen school productions, from musicals and operas to the more lighthearted fare of 'Neil Simon'.
Taking a curiously "musical" approach to his craft, the actor continually seeks fresh rhythms for each new role. Brian verifies his well rounded nature with a resume that lists such special skills as martial arts (black belt Hapkido), piano and sushi rolling. He lives at home with his 16-year-old son Jordan and 14-year-old daughter Daphne.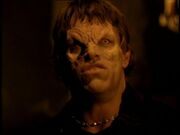 Epoch: Evolution
Lesser of Three Evils
Enterprise
The Tillamook Treasure
Roney's Point
Dark Games
Babylon 5: Crusade
External links
Edit
Ad blocker interference detected!
Wikia is a free-to-use site that makes money from advertising. We have a modified experience for viewers using ad blockers

Wikia is not accessible if you've made further modifications. Remove the custom ad blocker rule(s) and the page will load as expected.