Billie Jenkins
Talk

122
4,510pages on
this wiki
Billie Jenkins
Biographical information
Born

September/October 1985

Title(s)
Physical description
Species
Gender

Female

Height

5' 6 (1.68 m)

Hair color

Blonde

Eye color

Green

Skin color

White

Family information
Siblings
Parents
Grandparents
Magical characteristics
Active powers
Inactive powers
Basic powers
Magic items
Fears

Losing a Family Member

Affiliation
Occupation

College Student

Whitelighter
Loyalty
Character information
First appearance
Last appearance
Portrayed By
.
The Dogan: "Cocky little witch, aren't you? Or foolish."
Billie: "I prefer the former."
— Billie and the Dogan
Billie Jenkins is a witch and the younger daughter born to Carl and Helen Jenkins.
Besides the basic powers of a witch, such as spell casting, potion making, and scrying, Billie has the powers of Telekinesis and Projection. She is also one half of the "The Ultimate Power". According to her mortal parents, her powers came from her maternal grandmother.
Early Life
Edit
Billie: "I don't want to face this one."
Piper: "Face what?"
Billie: "The night my sister was taken."
— Billie opens up to the sisters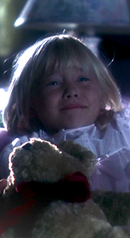 Billie was born to Carl and Helen Jenkins around 1985. As a child, she maintained a healthy relationship with her older sister, Christy. However, at the age of five, Billie witnessed her sister get brutally kidnapped by someone who would eventually be revealed to be a demon called Reinhardt. Since this event, her parents never spoke of Christy or the incident ever again, as they thought that it was what was best for Billie.
Billie's mother told her that she and her sister inherited magic from their grandmother. As a result of this, the Triad hired Reinhardt to kidnap Christy, knowing that the sisters would eventually grow to be powerful witches with a bond through magic and blood similar to the Charmed Ones, and set things in motion for the two sets of sister witches to stand against each other.[1]
Meeting The Charmed Ones
Edit
Billie found out that she was a witch when she noticed she was able to
move different things
with the flick of her hand. She eventually did more research on witchcraft and started
scrying
via a computer in order to find
demons
in
San Francisco
. While hunting demons, she dressed in a cheap vinyl outfit in order to hide her appearance.
[2]
One of her first demons lead her to a movie theater during the day, however unknown to her, she was subconsciously calling for her
whitelighter
who just happened to be
Paige Matthews
, a
Charmed One
.
[3]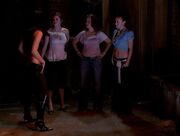 However, she and Paige didn't officially meet there. Billie scared off the demon and ran back out of the cinema, leaving an injured Paige. Paige attempted to scry for her, however she didn't get an exact reading. With the help of "Grams," Paige finally embraced the fact that even though she faked her death, she's still a whitelighter and she can't run away from that or her charge. Piper, Phoebe, and Paige eventually found Billie, who was kidnapped by Paul Haas and Black Heart who thought she was one of the Charmed Ones in disguise. They vanquished both of the demons, and revealed to her who they really were. Billie then made a deal with the sisters; they would teach her everything they know about the craft and she would pick up the slack with battling evil, especially since at that time, the sisters were presumed dead by the world.[4]
Practicing Witchcraft
Edit
Billie: "Oh, yeah?! Actually my problem is, is that you're just killing my buzz!"
Paige: "Buzz. That's what you call fighting demons?"
— Paige meets Billie for the first time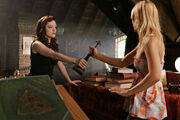 The sisters let Billie stay in their home in order to help her become more skilled in witchcraft. Despite having many other things to deal with, from time to time Paige would assist Billie with potion-making and instruct her in fighting demons. The vast majority of the knowledge she came to have was acquired from Leo, whom Paige enlisted to help Billie learn the true definitions and origins of magic, though she also had a tendency to find things out for herself as well. Besides this, she also studied the Halliwell Book of Shadows and eventually created her own.[5]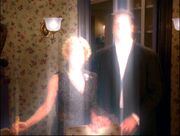 As the months went on, Billie became an increasingly powerful witch, proving herself to be a rare magical talent. Her mental based powers eventually expanded into a new active power,
Projection
: a supremely coveted and rare ability that enables the possessor to manipulate reality. However, it took her some time to adjust to this power, because of her ignorance of how to control it and use it properly. In fact, when she just only unknowingly developed this power, she actually turned her
parents
into assassins and nearly got herself killed in the process by them. However, with the help of the sisters, the Book of Shadows, and Leo, she became exceptionally skilled in her Craft and learned to thoroughly embrace her destiny of being a witch.
[6]
Finding Christy
Edit
"And I have a sister to scry for!"
—Billie attempting to find her sister
After discovering that Christy's kidnapping was supernatural and not otherwise, Billie became filled with vengeance and became unhealthily obsessed with finding the demons who took her and bringing her home. The sisters, by experience, knew that Billie's obsession would only lead to her getting hurt and not being able to bring Christy back at all though Billie didn't listen for the most part. Eventually, Billie honed her projection power to the point where she was able to project herself to Christy, finding her sister at last.
Turning Against The Charmed Ones
Edit
Paige: "Okay. Did they just vanquish a demon that can't be vanquished?"
Phoebe: "What does that mean? "
Piper: "I think that means we just found the ultimate power."
— The sisters realize Billie has turned against them
Billie finally succeeded in finding Christy, but unbeknownst to her, during Christy's fifteen years in captivity, she was brainwashed to believe that the Charmed Ones were on the verge of becoming evil and was given the mission to "save" Billie and turn her against the sisters in order to kill them. However, it was much harder than she initially thought as Billie had become attached to the family. Christy started to plant doubt in Billie's mind, for example; trying to convince Billie that they should get an apartment together and move out of the
manor
, even jokingly telling Billie that
Piper
was torturing her with food; trying to get her to believe that it was way too selfish for the sisters to have faked their deaths, and that they were using them to get someone else to do their jobs and fight evil and convincing her that the sisters created
Utopia
with the
Avatars
for their own personal gain. The final straw for Billie came after her parents were murdered by the
Noxon Demons
who the sisters refused to vanquish because they needed information to find the "
Ultimate Power
" and get Leo back. Christy's plan ultimately worked and
[7]
Billie eventually believed her sister, and moved out of the
manor
and back into her dorm room. It was eventually discovered that Billie and Christy's combined power of projecting and
firestarting
was the great power that the sisters needed to defeat.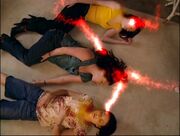 Billie and Christy then set up base in Magic School. Although she still was unsure about the sisters' true intentions, Billie gave up on trusting them when Christy manipulated Billie into thinking Piper "attacked" her, however, it was not the way she made it seem. When she thought things couldn't get any worse, Christy mentions a spell that would allow Billie to project herself into the sisters' minds to find out what they're really thinking.[8] Once in their dreams, she finds out that Piper is consumed with worrying if she will ever be able to get Leo back, Phoebe is consumed with her fear that it is too late to have the children she envisioned as well as Coop, while Paige is attempting to find balance and enlightenment.
Dumain: "What about the Charmed Ones?"
Billie: "Piper, Piper's the only one left. I don't understand, you said the Hollow would be enough."
— Billie after the ultimate battle
After turning Billie against the Charmed Ones, Christy brought her to Magic School, which at the time was taken over by demons. Once there, she met Dumain, a demon who she thought was an imaginary friend when she was younger, however he was working with Christy and The Triad to kill the sisters. Once she settled in, Dumain staged an elaborate plan to use incidents of the sister's past to convince both Billie and The Magical Community that the Charmed Ones had truly become selfish with their witchcraft, and Christy got Billie to take over the Manor thus leaving, Piper, Phoebe, and Paige to hide out in the Underworld and then eventually Phoebe's condo. Throughout her whole situation, despite being convinced that the sisters had become selfish, she was still reluctant to hurt them, and tried everything she could think of to keep from having to kill them. Even after accepting that she must, she admitted that she still didn't like it. The Triad suggests to Dumain that Billie and Christy summon The Hollow to kill the Charmed Ones, however two other demons were listening in on the conversation and they also happened to be working with the sisters. Summoning the Hollow takes a powerful force. Although the Charmed Ones were able to summon it themselves using The Power of Three, Piper and Leo's oldest son, as it would take "Charmed power" to summon it. Dumain shimmered to Victor Bennett's apartment where Wyatt and Chris were staying and convinced Wyatt that he was needed to help his mommy. Billie and Christy held hands with the young boy and combined their power with his in order to summon the Hollow. Once acquired, they stole Wyatt's powers so they'll be evenly matched with The Charmed Ones.
Billie and Christy faced off with the sisters who had also summoned the Hollow. During the battle, the manor was obliterated, additionally killing Christy, as well as Phoebe and Paige. Billie goes to Magic School and Dumain convinces her to use her projection power to send her back to Christy. However, she discovers that he's using her to go back to the Triad instead.
Billie projects herself back into the past at the Manor, just as the past Billie and Christy arrive. She warns them but past-Billie sends present-Billie flying into the wall with her Telekinesis and goes on to fight. The battle starts to play out as before but then Piper arrives with Grams and her mother to cast a spell which drives the Hollow out of the five girls. Present-Billie and Piper merge with their past selves, time has caught up with itself. Billie and Christy then teleport out with a potion. Billie tries to convince Christy that they have been used by the Triad, but all Christy can think of is fulfiling her mission and killing the Charmed Ones. Billie then goes to the sisters for help and forgiveness. She projects back in time with the sisters to vanquish the Triad in the past and tries to convince Christy to stop her vendetta and come with her, though Christy hurls a fireball at her, causing Billie to telekinetically repel the fireball back at her in self-defense. Billie then breaks down and cries at her sister's death, as the sisters surround her.
Later Life
Edit
"Just knowing that you're here if we fail helps, Billie. It's bad enough we have to take you away from school to keep an eye on the Morrises."
—Billie returns.
After the ultimate battle, Billie moved away from San Francisco to the city of Los Angeles to finish college, which she stopped attending after her parents' death. Eighteen months later, Paige asked Billie to look after Darryl Morris and his family in the East Coast due to all of the sisters' previous and current innocents and charges being murdered. Paige later comes to Billie to ask her to lend some of her magic to vanquish The Source, who recently came back as a Golem. After the Source was defeated, she presumably returned to Los Angeles.[9]
When the sisters were battling an ancient demon named Gaxageal, Billie called Leo to check in on the sisters.[10]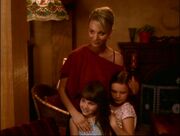 About five to six years later, Billie moved back to San Francisco after finally finishing college. She eventually became like a surrogate aunt to Phoebe's daughters, babysitting the oldest two while Phoebe went into labor with her third and final child.[11]
Personality
Edit
Billie Jenkins is very intelligent and ambitious. She was not told by anyone that she was a witch. When her powers began to develop she did research and figured out what she was, what demons were, and how to use her powers all on her own. She began searching for demons by herself. Although smart, she was still new to the craft and had a lot to learn. Because of this, she unknowingly began calling for her whitelighter Paige Matthews. At first, Billie had too much pride to accept Paige's help. She also did not know who Paige really was because she was disguised and pretending to be dead. When Billie learned that Paige was a Charmed One, an agreement was reached that Paige, Piper and Phoebe would teach Billie everything they knew about witchcraft and Billie would eventually take over fighting demons. Billie was a quick study because she was very eager to learn. While fighting a demon, Billie had a flash of a traumatic childhood memory. This frightened her, a feeling that someone like Billie did not like to feel. Eventually she allowed herself to remember, and she discovered that her older sister Christy had been kidnapped by demons. After discovering this, Billie became obsessed with finding Christy. She began to neglect her studies, and she also became careless.
After finding her sister, Christy was able to manipulate Billie into thinking that Piper was partially responsible for their parents death. She convinced Billie that the Charmed Ones were selfish, and because of it they were neglecting their duties to the greater good, and that they needed to be stopped before it was too late. Billie finally came to her senses and said she would not be a killer, and realized that Christy had been brainwashed into becoming evil. Billie felt terrible and apologized to the Charmed Ones, explaining that she just wanted to be with Christy, and she was unwilling to see the truth. Billie redeemed herself by taking the Charmed Ones back in time to destroy Dumain and the Triad once and for all.
Powers and Abilities
Edit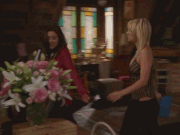 Basic Powers
Active Powers
Telekinesis: The ability to move objects and beings with the power of one's mind alone. It can be channeled through the eyes or the hands. Billie had apparently learned to master this power quickly, given she used it to enhance her natural acrobatic and martial arts talents so that she could perform flips and other gravity-defying maneuvers.

Deviation: The ability to use one's power to deflect magical energies back to the direction it came from. Billie is able to deviate powers such as Fireballs by using Telekinesis.
Agility: An ability that provides the possessor with inhuman agility, reflexes, and speed. It allows one to perform incredible feats such as superhuman jumps and leaps without much effort.

Projection: The ability to manipulate reality. It is channeled through imagination, high levels of emotions, and the will to let things happen. Billie requires an intense amount of concentration to employ this power effectively.
Other Powers
Relationships
Edit
Professional Life
Edit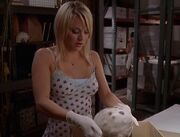 College: When Billie first found out her true nature as a witch, she was currently studying in college. She remained in college until the beginning of 2006 when she finally found her eldest sister, Christy. After leaving San Francisco and moving to Los Angeles, Billie started up college again.[22]
Cold Case Worker: After the sisters revealed themselves to Agent Murphy. He asks them for their help on some unknown missing cold case's. He originally asked Piper and Phoebe however, Piper went to deal with other issues involving P3, leaving Phoebe to call Billie for her assistance.[23]
Appearance
Edit
Billie's appearance hasn't changed that much over her year of appearances, she mostly keeps the same style. However, her overall appearance has changed much more than her sister, Christy has.
Hair: Billie has long blonde hair with bangs. She first appears wearing a disguise, donning a shoulder-length, black wig with blunt bangs. She tends to wear her hair straight, and alternates between having it down or tied back.
Wardrobe: Billie dresses much like typical young girl in her early 20's: skinny jeans and a various array of tank tops and blouses. Her make-up remains relatively soft and subtle with a touch of eyeshadow, lipstick and lip gloss.
Etymology
Edit
Billie: Diminutive of Bill. It is also used as a feminine form of William.
Jenkins: A double diminutive surname, meaning "little Jen". Jen itself is a diminutive of John.
Billie is one of four main characters to not have died in the series. The other three are Jenny Gordon, Dan Gordon and Darryl Morris.
Billie has two episodes named after her, Kill Billie Vol. 1 and Kill Billie Vol. 2.
In Season 9, Prue Halliwell reveals that the only reason Billie and her sister were able to stand against the Charmed Ones was because Prue was still bonded to the Charmed prophecy in death, holding them back from reaching their true power. 
Billie's telekinesis is accompanied by the same sound effect that was used with Prue's telekinesis.
Billie appears in the main menus of all the discs of the eighth season DVD release. Billie, Richard Montana, Evil Chris and Leo Wyatt are the only characters besides the Charmed Ones to be featured in a DVD menu.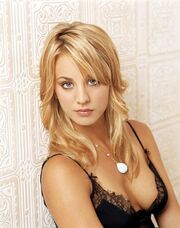 Appearances
Edit
Billie Jenkins appeared in a total of 22 episodes over the course of the series and has appeared in 1 issue of the Charmed Comics.
Season 8

All episodes

Season 9
References
Edit