Bethany Joy Lenz
Actor Information
Name

Bethany Joy Lenz

Birthplace

Hollywood, Florida, U.S.

Birth date

April 2,1981

Portrayed
Season

4

Episode(s)
.
Bethany Joy Lenz, credited Joie Lenz, portrayed Lady Julia in the Season 4 episode "A Knight to Remember".
Biography
Edit
Trained by the director of The Brooklyn College of Opera, Lenz plays the guitar and piano, and writes her own music. Lenz has independently released two albums and is now a part of the band Everly.
On screen, Lenz is best known for her portrayals of Michelle Bauer Santos on Guiding Light (from 1998 to 2000) and Haley James Scott on One Tree Hill (since 2003). On the 10th of August the CW confirmed that Bethany would be a part of a special crossover event between Life Unexpected and One Tree Hill. She will play her character Haley James Scott on the hit show Life Unexpected together with Kate Voegele. The episode will air on October 12 of 2010. Lenz's stage credits include collaborating with Garry Marshall and Carole King on a new musical, as well as working with director Arthur Allan Seidelman on a production of The Outsiders.
Psalty's Salvation Celebration (1992)
Thinner (1996)
Mary and Rhoda (2000)
End of August (2000)
Bring it On Again (2004)
Just Yell Fire: Campus Life (2011)
The Christmas Secret (2014)
Extortion (2017)
Television
Edit
The Guiding Light (1998-2000)
Charmed (2001)
One Tree Hill (2003-2012)
Life Unexpected (2010)
Dexter (2013)
Marvel's Agents of S.H.I.E.L.D. (2016)
American Gothic (2016)
Colony (2017-present)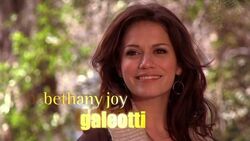 In November 2005, Bethany announced she would be marrying Michael Galeotti. They have a daughter born in 2011 named Maria Rose Galeotti. She took his surname and will be using "Bethany Joy Galeotti" professionally. Sadly in March 2012 she announced that she and her husband are getting a divorce and she's taking her maiden name "Bethany Joy Lenz" again.
Bethany has a tattoo on the top of her right foot.
Bethany is also a talented musician and singer with a four-octave range.
Everybody calls her just Joy.
As of 2012, Bethany has been in a relationship with Wes Ramsey.
External Links
Edit
Ad blocker interference detected!
Wikia is a free-to-use site that makes money from advertising. We have a modified experience for viewers using ad blockers

Wikia is not accessible if you've made further modifications. Remove the custom ad blocker rule(s) and the page will load as expected.