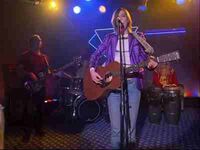 Beth Orton is an English singer-songwriter who performed at P3 in 2003 in the episode "Sand Francisco Dreamin'". She is most known for her folktronica sound, which is a combination of folk music and electronica.
Notes and Trivia
Edit
She performed for Piper Halliwell's Baby Shower at P3.
Her music was also used in "The Power of Two".
External Links
Edit
Ad blocker interference detected!
Wikia is a free-to-use site that makes money from advertising. We have a modified experience for viewers using ad blockers

Wikia is not accessible if you've made further modifications. Remove the custom ad blocker rule(s) and the page will load as expected.