Benny Ritter
Physical description
Species
Gender

Male

Hair color

Brown

Eye color

Brown

Skin color

White

Family information
Occupation

Drug dealer

Character information
Portrayed By
.
Benny Ritter was a drug dealer who had his kidney stolen by a deranged Dr. Williamson.
History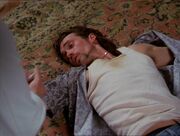 Benny was on the phone when Dr. Williamson used Prue's stolen power of Telekinesis to blow his door open. He then flung the drug dealer across the room and weakened him with an injection before stealing his kidney. Williamson then stitched him back up, called the paramedics and left a note on how to treat his injuries.
He was last seen being taken to a hospital.

Appearances
Benny Ritter appeared in a total of 1 episode throughout the course of the series.
Charmed

,

Season 2

#01
"Witch Trial"
#09
"Ms. Hellfire"
#17
"How to Make a Quilt Out of Americans"
#02
"Morality Bites"
#10
"Heartbreak City"
#18
"Chick Flick"
#03
"The Painted World"
#11
"Reckless Abandon"
#19
"Ex Libris"
#04
"The Devil's Music"
#12
"Awakened"
#20
"Astral Monkey"
#05
"She's a Man, Baby, a Man!"
#13
"Animal Pragmatism"
#21
"Apocalypse, Not"
#06
"That Old Black Magic"
#14
"Pardon My Past"
#22
"Be Careful What You Witch For"
#07
"They're Everywhere"
#15
"Give Me a Sign"
#08
"P3 H2O"
#16
"Murphy's Luck"