Belthazor
Biographical information
Born
Died

2003; Halliwell Manor (Alternate timeline)

Marital

Divorced from Phoebe Halliwell

Level
Physical description
Species
Gender

Male

Hair color

Bald

Eye color

Black

Skin color

Red with black flame-like markings

Magical characteristics
Active powers
Inactive powers
Occupation
Character information
First appearance
Last appearance
Portrayed By
.
Belthazor was the demonic alias of Cole Turner, a half-demon born to the demon Elizabeth and the mortal Benjamin Turner. He was a member of the Brotherhood of the Thorn and was hired by the Triad to kill the Charmed Ones. He was considered as a legendary demon who was a very powerful and dangerous soldier of fortune, known for destroying countless witches, innocents and demons.
History
Powers and Abilities
Active Powers
Other Powers
Adjusting: The ability to fight through inhibitory molecular powers.
High Resistance: The ability to be highly resistant to physical and magical harm and survive otherwise lethal attacks. He was one of the few demons who couldn't be vanquished by his own energy balls and was able to survive Piper's power of Molecular Combustion even in his human form.
Immortality: The ability to possess an infinite lifespan and an arrested aging process.
Through spell, potion, power stealing, etc.
Illusion Casting: The ability to cast illusions. Cole mentioned having learned a trick from the Demon of Illusion and appeared in Phoebe's favorite movie to let her know he was back.
Appendices
(Book of Shadows text:)
Belthazor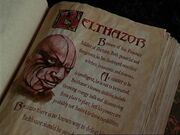 Beware of this Demonic
Soldier of Fortune. Both powerful and
dangerous, he has destroyed countless
witches, innocents, and demons.
As sinister as he
is intelligent, he is not to be trusted,
Belthazor's known abilities include
throwing energy balls and shimmering
from place to place, but his powers are
probably not limited to these capabilities.
Because there is no known way to defeat him,
Belthazor should be avoided at all costs.
Belthazor Vanquish Spell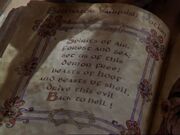 Spirits of Air
Forest and Sea
Set us of this
Demon free;
Beasts of hoof
And Beasts of shell
Drive this evil
Back to hell!
The ingredients of the potion can be found here.
To Summon Belthazor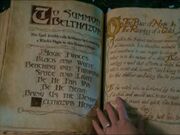 This Spell forcibly calls Belthazor by Connecting
a Witch's Magic to this Demon's Magic.
Magic Forces
Black and White
Reaching out Through
Space and Light
Be He Far Or
Be He Near
Bring Us the Demon
Belthazor Here.
Gallery
Notes and Trivia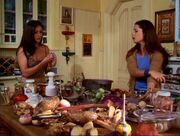 Appearances
Belthazor has appeared in a total of 10 episodes and 2 comic issues throughout the course of the series.
Season 3
Season 4
Season 9

Four's Company (as a memory only)
Ad blocker interference detected!
Wikia is a free-to-use site that makes money from advertising. We have a modified experience for viewers using ad blockers

Wikia is not accessible if you've made further modifications. Remove the custom ad blocker rule(s) and the page will load as expected.