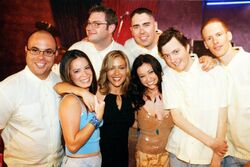 The Barenaked Ladies is a Canadian alternative rock band formed in 1988. They performed at P3 in the episode "The Honeymoon's Over", where they sang "Pinch Me".
Notes and Trivia
Edit
Their song "Pinch Me" is also featured on the Charmed Soundtrack, The Final Chapter.
The Barenaked Ladies are also known for providing the theme song for "The Big Bang Theory", starring Kaley Cuoco.
External Links
Edit