Amy Adams
Actor Information
Name

Amy Adams

Birthplace

Aviano, Italy

Birth date

August 20, 1974

Portrayed
Season

2

Episode(s)
.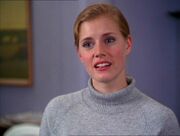 Amy Adams played Maggie Murphy in the Season 2 episode Murphy's Luck.
Biography
Edit
Adams was born in Italy to American parents, while her father was in the United States military, and raised with six siblings in Castle Rock, Colorado.
She began her Hollywood career with a supporting role in the 1999 film Drop Dead Gorgeous. In 2005, she earned her first Academy Award nomination for her supporting role in the independent film Junebug. A second Oscar nod followed in 2008 for her role in Doubt. She also gained fame for her lead role as a parody/amalgamation of various Disney princesses in Enchanted (2007).
On July 24, 2008, she got engaged to her boyfriend, Darren Le Gallo, and they are expecting their first child in 2010.
Night at the Museum: Battle of the Smithsonian (2009)
Doubt (2008)
Sunshine Cleaning (2007)
Enchanted (2007)
Junebug (2005)
"Catch Me If You Can" (2002)
Buffy the Vampire Slayer (2000; 1 episode : "Family")
Charmed (2000; 1 episode: "Murphy's Luck")
Drop Dead Gorgeous (1999)
External links
Edit
Ad blocker interference detected!
Wikia is a free-to-use site that makes money from advertising. We have a modified experience for viewers using ad blockers

Wikia is not accessible if you've made further modifications. Remove the custom ad blocker rule(s) and the page will load as expected.