American Museum of Natural History
Information
Description

A museum dedicated to natural history

Employees
Location
.
The American Museum of Natural History is a museum located in San Francisco, California.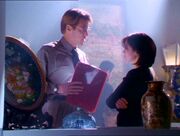 Prue Halliwell worked at the museum for an undetermined amount of time.The museum was also the place she met her former fiancee Roger, who was also in charge of her department. In 1998, shortly after becoming a witch, Prue got into an argument with Roger over an art exhibition that Prue secured. According to Roger, the board wanted someone more qualified to handle the collection, which meant he was taking over. Prue became frustrated with him and later decided to quit and end her engagement.[1]
Prue only returned once to steal a feather from a spotted owl specimen as ingredient for a curse.[2]
Notable Employees
Edit
Notable Visitors
Edit
References
Edit
Ad blocker interference detected!
Wikia is a free-to-use site that makes money from advertising. We have a modified experience for viewers using ad blockers

Wikia is not accessible if you've made further modifications. Remove the custom ad blocker rule(s) and the page will load as expected.