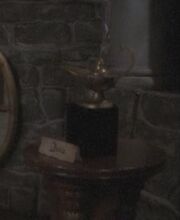 Aladdin is an Arabian folktale, one among The Book of One Thousand and One Nights ("The Arabian Nights"), about a poor young man who comes across a magical oil lamp with a genie in it, who gives him three wishes.
Aladdin's lamp was being protected inside the Keeper of the Fairy Tales' Fortress. While the Wicked Witch was temporarily free, she picked multiple artifacts in her use against the Charmed Ones, but never used the lamp.[1]
External links
Edit
References
Edit
Ad blocker interference detected!
Wikia is a free-to-use site that makes money from advertising. We have a modified experience for viewers using ad blockers

Wikia is not accessible if you've made further modifications. Remove the custom ad blocker rule(s) and the page will load as expected.