Abet
Biographical information
Died
Physical description
Species
Gender

Male

Hair color

Black

Eye color

Brown

Skin color

Dark

Magical characteristics
Active powers
Character information
Only appearance
Portrayed By
.
Abet was a demonic shapeshifter who was vanquished by the Dogan for his powers.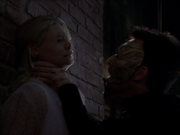 While Abet was disguised as a young woman, the Dogan was able to see through his disguise and cornered him in a dark alley. As his powers were taken and he was vanquished, he was seemingly fully absorbed by The Dogan.
Powers and Abilities
Edit
Active Powers
Shapeshifting: The ability to alter one's physical form into that of another person.
Appearances
Edit
Abet appeared in a total of 1 episode over the course of the series.
Charmed

,

Season 8

#01
"Still Charmed & Kicking"
#09
"Hulkus Pocus"
#17
"Generation Hex"
#02
"Malice in Wonderland"
#10
"Vaya Con Leos"
#18
"The Torn Identity"
#03
"Run, Piper, Run"
#11
"Mr. & Mrs. Witch"
#19
"The Jung and the Restless"
#04
"Desperate Housewitches"
#12
"Payback's a Witch"
#20
"Gone with the Witches"
#05
"Rewitched"
#13
"Repo Manor"
#21
"Kill Billie: Vol. 2"
#06
"Kill Billie: Vol. 1"
#14
"12 Angry Zen"
#22
"Forever Charmed"
#07
"The Lost Picture Show"
#15
"The Last Temptation of Christy"
#08
"Battle of the Hexes"
#16
"Engaged and Confused"
Ad blocker interference detected!
Wikia is a free-to-use site that makes money from advertising. We have a modified experience for viewers using ad blockers

Wikia is not accessible if you've made further modifications. Remove the custom ad blocker rule(s) and the page will load as expected.