Abet
Biographical information
Died
Physical description
Species
Gender

Male

Hair color

Black

Eye color

Brown

Skin color

Dark

Magical characteristics
Active powers
Character information
Only appearance
Portrayed By
.
Abet was a demonic shapeshifter who was vanquished by the Dogan for his powers.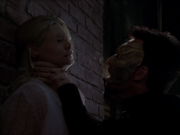 While Abet was disguised as a young woman, the Dogan was able to see through his disguise and cornered him in a dark alley. As his powers were taken and he was vanquished, he was seemingly fully absorbed by The Dogan.
Powers and Abilities
Edit
Active Powers
Shapeshifting: The ability to alter one's physical form into that of another person.
Appearances
Edit
Abet appeared in a total of 1 episode over the course of the series.
Season 8