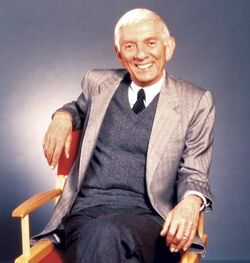 Aaron Spelling was an executive producer on Charmed and the founder of Spelling Television Inc., the production company that produced the show. He was born on 22 April 1923, Dallas, Texas, USA and died on 23 June 2006. He had so many shows on ABC in the 1970s, people in the business joked that ABC stood for "Aaron's Broadcasting Company".
Episodes as executive producer
Edit
Charmed (executive producer) (158 episodes, 1998-2006)
External links
Edit
Ad blocker interference detected!
Wikia is a free-to-use site that makes money from advertising. We have a modified experience for viewers using ad blockers

Wikia is not accessible if you've made further modifications. Remove the custom ad blocker rule(s) and the page will load as expected.