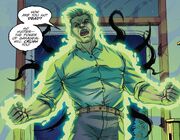 The events of Season 10 takes place in the year 2010, as roughly one year has passed since "The Power of 300".
Events
Gaxageal repeatedly attacks the Charmed Ones over the course of three months. ("No Country for Old Ones")
Valen is the first demon in centuries to obtain the Ancient Athame. ("Magically Malicious")
Cole Turner's soul is destroyed by the Ancient Athame. ("Whatever Happened to the Demon with a Soul?")
Coop is taken away from Phoebe and their daughters for aiding the charmed ones in their fight against evil.
Prue prevents Kyra's death by pulling her forward in time. She has since reunited with all the sisters.
Prue recreated Cole's body and placed his father's soul, Benjamin Turner, in it.
Tyler Michaels is possessed by multiple demons after venturing to the Demonic Wasteland, and the Old One, Heremus, infected him with his blood.
Coop Halliwell is separated from his wife and daughters by the Court of Love.
Phoebe realizes she is pregnant with her third daughter.
Prue merges her body with Heremus, becoming evil in the process.
Prue kidnaps Coop, Tyler, Benjamin and Kyra to use them as sacrifices for her ritual to resurrect the Old Ones.
Prue becomes a Charmed One again.
Piper stabs Prue to stop her. Her soul is released, Heremus destroyed and Patience is revived.
Paige is stabbed by the Ancient Athame, but survives with total amnesia.
Birthdays