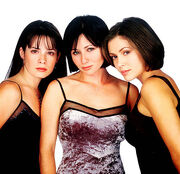 The last 13 episodes of Season 1 and the first eight episodes of Season 2 of Charmed aired in the United States of America in 1999.
Season One
Edit
Season Two
Edit
The Charmed Ones celebrate their one year anniversary of becoming witches on the Spiritual Equinox.
("Witch Trial")
Grams visits the sisters for the first time from the after life and leaves them a Happy Anniversary message in the Book of Shadows. ("Witch Trial")
Piper opens her own Club - P3. ("Witch Trial")
The sisters go to the future (2009) after Phoebe has a vision that she will be burned at the stake. ("Morality Bites")
Piper meets Dan and starts dating him.
The sisters meet Sam Wilder, who later appears to be Paige's father. ("P3 H2O")
Birthdays:

June 7th Piper Halliwell turns 26
August 2nd Paige Matthews turns 22
October 28th Prue Halliwell turns 29
November 2nd Phoebe Halliwell turns 24
Ad blocker interference detected!
Wikia is a free-to-use site that makes money from advertising. We have a modified experience for viewers using ad blockers

Wikia is not accessible if you've made further modifications. Remove the custom ad blocker rule(s) and the page will load as expected.