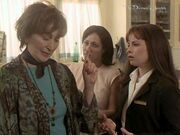 Events:
Birthdays:
June 7th Piper Halliwell turns 24
June 23rd Penny Halliwell turns 67
August 2nd Paige Matthews turns 20
October 28th Prue Halliwell turns 27
November 2nd Phoebe Halliwell turns 22
Ad blocker interference detected!
Wikia is a free-to-use site that makes money from advertising. We have a modified experience for viewers using ad blockers

Wikia is not accessible if you've made further modifications. Remove the custom ad blocker rule(s) and the page will load as expected.