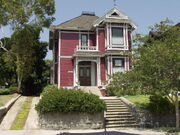 "Well, the original house that stood on that spot was a masterpiece. But it had to be rebuilt after the earthquake of 1906 when it was completely destroyed"
—Professor Whitelesey
According to the series, the existing structure of the Halliwell Manor was built in 1906 after the Great Earthquake of San Francisco. Paige mentioned to inquiring reporters in Season 8 that the original house was built in 1898.