The Charmed wiki is a free, public and collaborative project for all, to help create an encyclopedia for the hit-television show Charmed. Fresh Charmed-fans, note that this wiki contains a plethora of spoilers!

We are currently editing 4,575 articles since January 24 of 2006.

---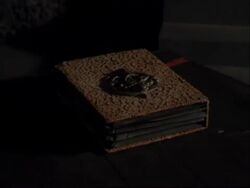 Grimoire are magical tomes of dark magic kept by demons and evil witches. They serve as evil counterparts to a Book of Shadows kept by good witches. The most prominent Grimoire, often simply referred to as the Grimoire is owned by the Source of All Evil. The pages are blackened with the evil that are written on their pages and it is written completely in Latin.
Wyatt Matthew Halliwell is a Whitelighter-Witch and the first born child of Piper Halliwell and Leo Wyatt. He is the older brother of Chris and Melinda Halliwell, and the oldest of the children of the Charmed Ones. Wyatt is the first male witch in his family. As the prophesied Twice-Blessed Child, Wyatt was going to be one of the most powerful witches to ever walk the Earth.
Power Mimicry is the ability to permanently copy the powers of other magical beings and gain Immunity to that power. The warlock Matthew Tate was the only known being to possess this power. The possessor can copy any powers that is used on or against them. When Prue used Telekinesis directly on Matthew Tate, he was able to mimic her power and then become immune to it, leaving her defenseless when using her power directly on him.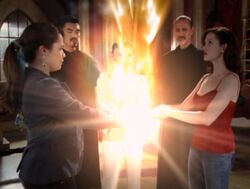 Extreme Makeover: World Edition is the 12th episode of the seventh season and the 146th overall episode of Charmed. While the Avatars prepare to transform the world into a Utopia, the Charmed Ones work overtime eliminating demons as part of the alliance. Kyle remains skeptical and quarrels with Paige stimulating questions in which they inform the Charmed Ones that the human world must be put to sleep so that they can kill any remaining demons.
About:
The Power of One vanquishes Abraxas.
Related articles:
Fear Always Comes Back
Issue #11 | Season 10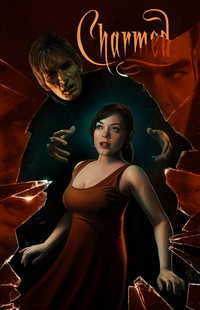 ---
Prue: "I am wearing clothes from the ex-boyfriends pile, I have hair in strange places, and...I have a penis!"
What is your favorite Charmed season?
Last month 122 people voted. 58% of you chose Neena as your favorite comic villain.